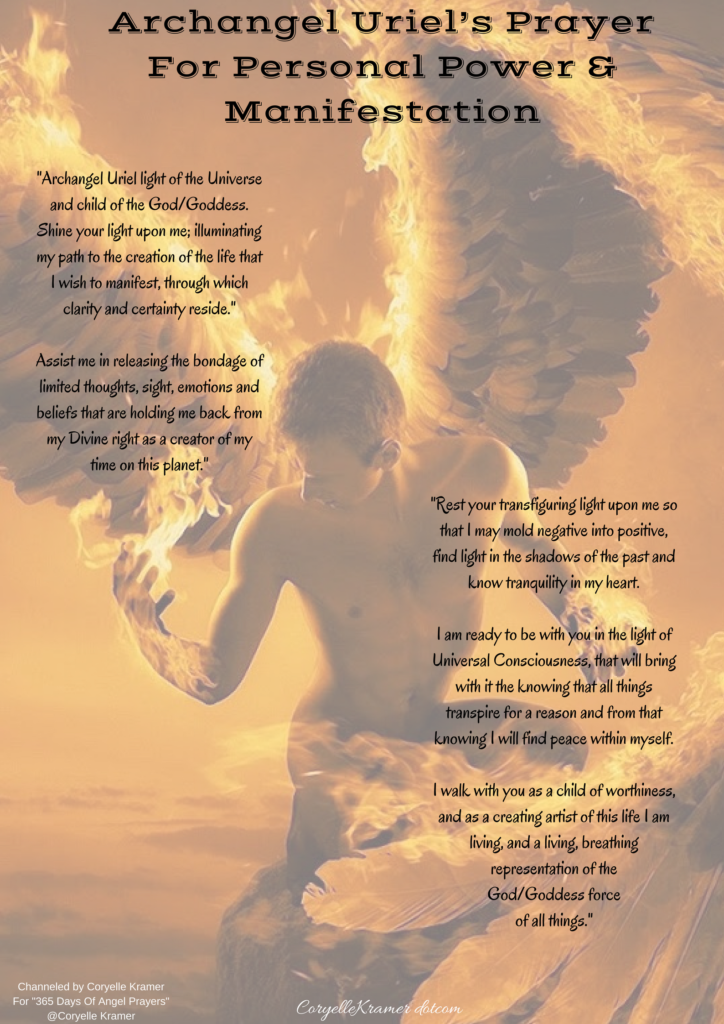 From the Bestselling book 365 Days of Angel Prayers
"Archangel Uriel's Prayer for Personal Power & Manifestation" 
By Coryelle Kramer
Archangel Uriel light of the Universe
and child of the God/Goddess.
Shine your light upon me; illuminating my path
to the creation of the life that I wish to manifest,
through which clarity and certainty reside.
Assist me in releasing the bondage of
limited thoughts, sight, emotions and beliefs
that are holding me back from my Divine right
as a creator of my time on this planet.
Rest your transfiguring light upon me
so that I may mold negative into positive,
find light in the shadows of the past
and know tranquility in my heart.
I am ready to be with you in the light of Universal Consciousness,
that will bring with it the knowing that all things transpire for a reason
and from that knowing I will find peace within myself.
I walk with you as a child of worthiness,
and as a creating artist of this life I am living,
and a living, breathing representation
of the God/Goddess force of all things.
channeled from Uriel with absolute love to each and every one of you.