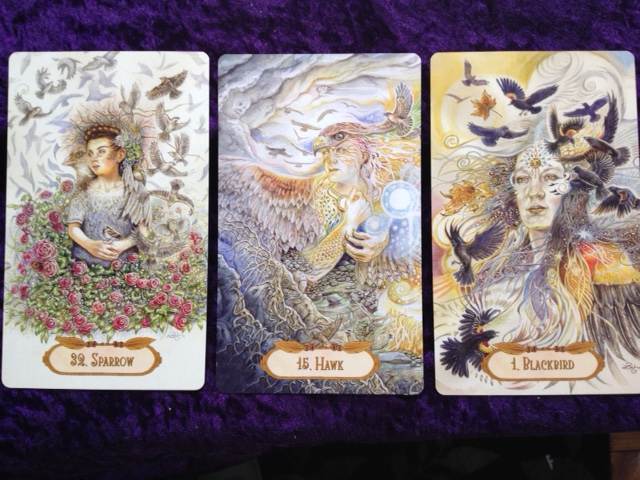 This week's cards are from my new deck the "Winged Enchantment". Choose the card that most resonates with you and then see how right your intuition can be by reading it's message below. Enjoy!
Messages taken directly from the book
"Sparrow"
I am Sparrow, the enlightenment of self-worth. I am pride in the simplicity and honor in the commonplace. I am the one standing vigilant. I am power in numbers and the contentment of begin a part of the larger whole. Much of human endeavors thrives on originality, of standing out boldly from the crown. My wisdom encourages the acknowledgment of the role of community and family to shape your personal destiny. You cannot always fly solo and you cannot neglect the threads that bind us all together. You are approaching a time that will require a group effort and a need to blend in while fostering your imprint on the world. It is a mighty gift to flit about the world unseen, and a greeter gift to know you have flocks behind you if you need them. You need to pull back, regroup and find the common ground. There's power in numbers, the more the merrier.
"Hawk"
I am Hawk, the majestic and visionary. I am the eyes of the Gods. I am the whole picture. I have keen sight, seeing everything from every angle. I can see how today I am advantage and strategy, and will always come prepared. If I am circling overhead for you, you are aligned with your future. your path is balanced, your motivations centered, and your higher mind aligned. To be a visionary takes more than just seeing the path ahead, you must construct it, shape it, and ensure it spans far enough to complete your task. Does your current way of doing things support what you seek to accomplish? If not, change course and create a new path. I encourage you to take a look at what you want and that drives you to it, and adjust your perspective if you have to in order to see the bigger picture.
"Blackbird"
I am Blackbrid, the enchantress of the soul. I am melodious and hypnotic. I am the transporter of the mind from one state to another. I am bringer of omens. I will entrance you with my song and open the portals of spirit. I break through boundaries and remove whatever separates you from eternity. If you have strayed into my woods, something enchanting is afoot. Mystery has tempted you. The magical realms have seduced you. I can align you with the earth and the energy that encircles it. You are hearing the whispers of the ancients and calls of the deep woods. Look beyond everything and see the layers, see the magic! Listen carefully. Be alert. Let go and embrace the experience.
Blessings for your week
Love,
Coryelle