A "Soul Piece" is when I intuitively paint your animal's soul. It can be for either an animal who's living or one who has passed on.
I connect to them as I would do in a session, and I ask them to show me their soul, and I begin to choose the brushes and colors intuitively.
Then I paint their soul and once again I paint using my intuition as well as what you're animal ask me to paint. The brush strokes, the techniques I use, when to turn the painting and where to paint on the canvas, what colors to use and where, what brushes to use and how; everything is done intuitively.
I call them "Soul Piece's" because they are Piece's of your animal's Soul but they are also your animal's Soul masterPiece as well.
No two Soul Pieces are the same, each is unique and one of a kind as your animal companion.
The astonishing thing about a "Soul Piece" is that it is constantly unfolding, and you always see something new and when you turn it, it becomes an entirely different piece.
Each Piece comes with a recording with a detailed explanation for each color as well as any and all messages that I received while I was painting their piece.
This video shows the full process of a soul piece painting
Some "Soul Piece" Reviews
"Thank you & Cherokee – I am SO moved by this! It is beautiful!!!! The white, in my mind, represents her too, patiently waiting for me to (finally) realize she had been there waiting for me!!! And the swoops – her mane. Your Soul Pieces are such a wonderfully moving, special and unique offering – thank you for sharing your gifts with the world! " Jacki Marson, WA
"I got chills when I saw Champ's soul painting. Champ was an artist himself (known as "Champcasso") – he painted with his paw and all the proceeds went to rescue. His soul painting was so similar to some of the work he did with his own paw. It was truly like he was painting from heaven through Coryelle. I will cherish this piece always." Neely Bryanne, IN
"Coryelle's Soul Pieces show the spirits of my two cats. The colors and energy of each piece are clearly recognizable for each cat. Any painter can show me what my cats look like – these show me what they feel like. And they are spot on!" ~  from NYC
"Harlee's soul piece touched me so deeply, and gave me the feeling that she was home with me again. The colors she chose, and the reasons for them, gave me such a feeling of connection to her. I am amazed at, and in awe of Coryelle for delivering Harlee's message in this incredible way." ~ Bessie Holmes, NY
Some Of My Most Recent Soul Pieces…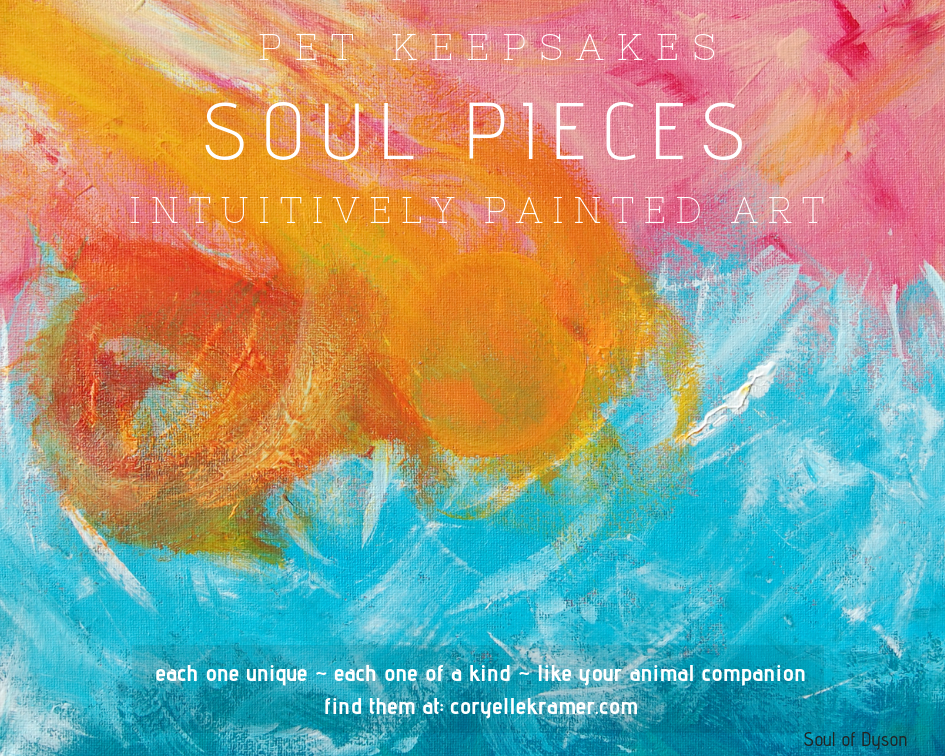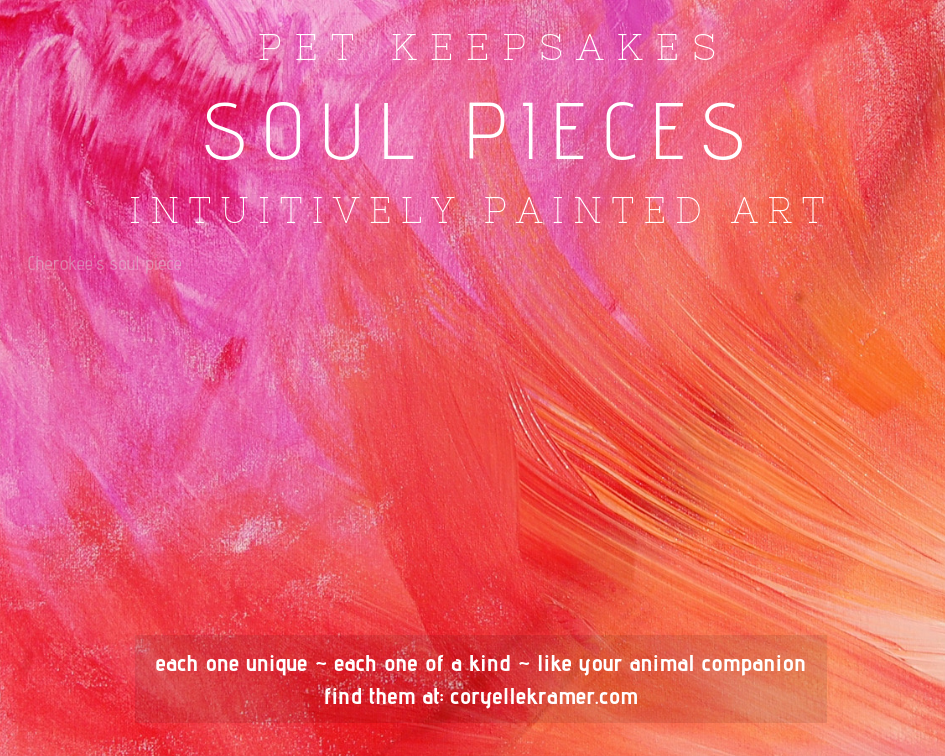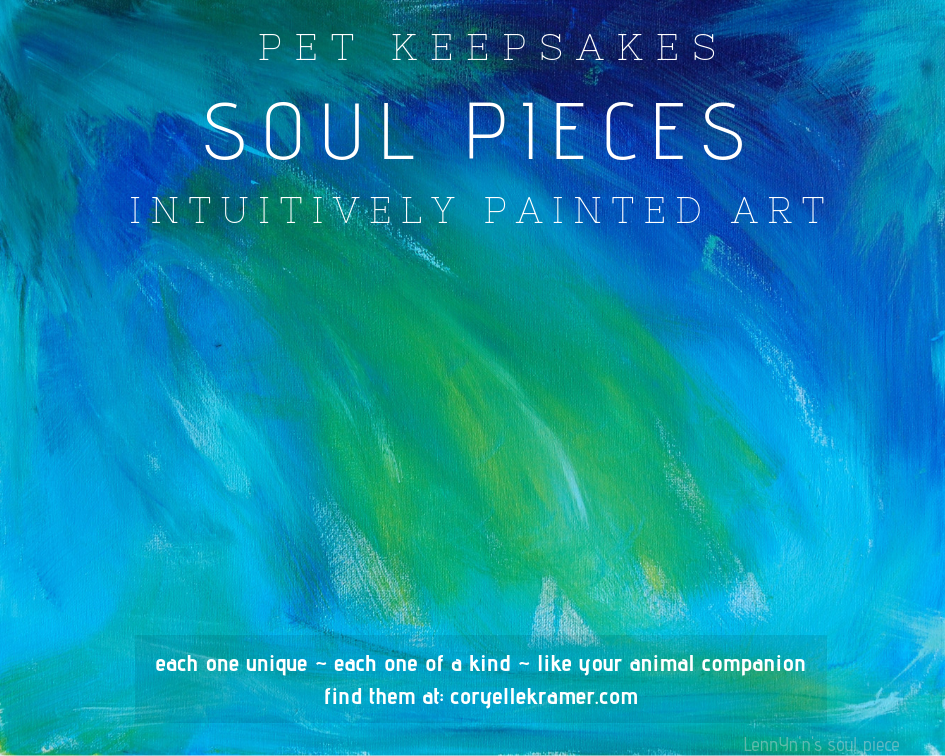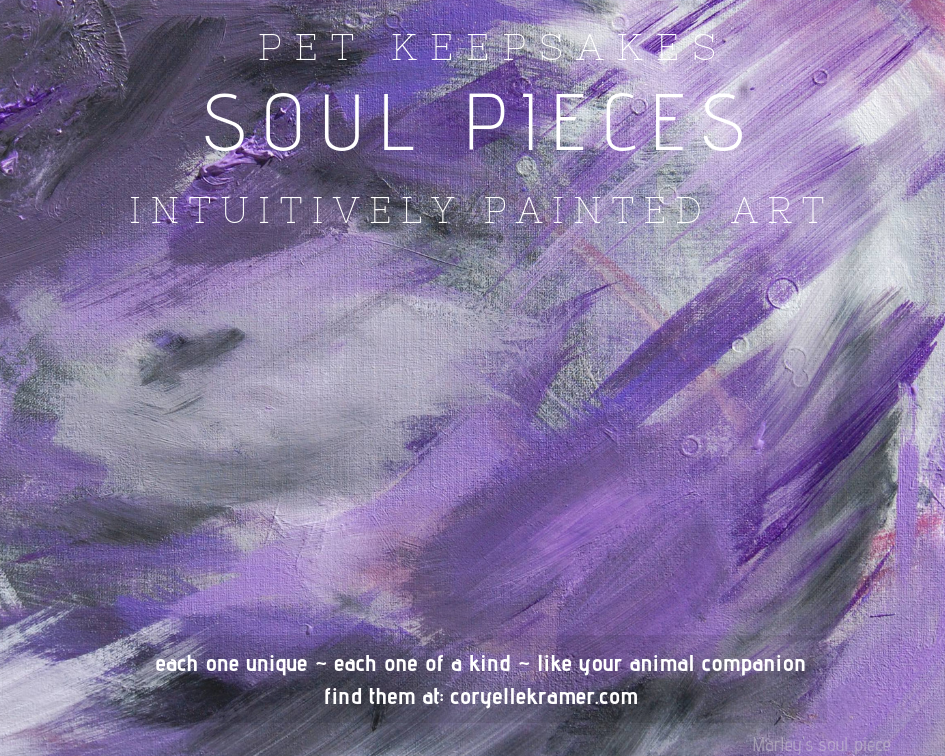 Soul Piece's can be found in my online shop.
Pricing varies canvas size: Canvas options
11″ x 14″ canvas: $40.00
12″ x 16″ canvas:  $50.00
16″ x 20″ canvas: $60.00
18″ x 24″ canvas: $70.00
20″ x 24″ canvas: $80.00
Shipping varies with the size of the canvas and how many you would like, if purchasing multiple canvas' a separate invoice will be sent when the Soul Pieces are ready to be shipped.
Larger pieces ARE possible, please Contact Coryelle or to inquire about shipping OUTSIDE the U.S.
All Pieces are shipped priority mail within the U.S. Pieces can take up to a month to complete.
SaveSave
SaveSave
SaveSave
SaveSave
SaveSave
SaveSave
SaveSave
SaveSave
SaveSave
SaveSave