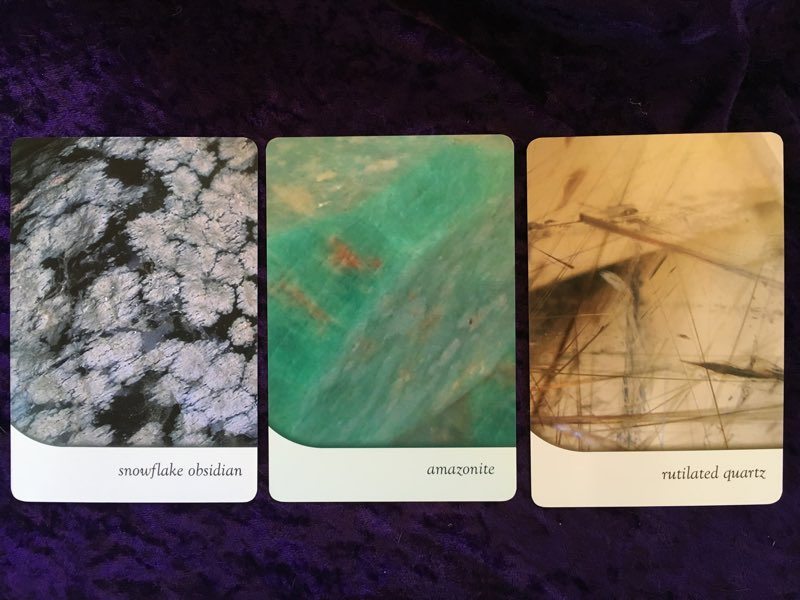 Your cards this week are from the Crystal Oracle deck.
"Snowflake Obsidian"
It's time to let your inspirations and ideas come out to play! The time for hiding/protecting/nurturing them is over, they want to live and manifest into the world. You've been in a incubation period that has thus far been needed it was a time in which you have subconsciously been collecting creative fuel to be used at a later date. Well that later date is now. You will soon begin to express and empower your ideas and inspirations as you discover practical applications for them in your physical world. It's time to shine, so don't hold back any longer!
"Amazonite"
Healing, healing, healing this is the week for healing. Either yourself, others, relationships, or even the world itself. This crystal is letting you know that healing is coming your way this week. Maybe you're coming out of a turbulent time, where you've been doubting your place in this world or who you are? Maybe you've been releasing a lot of things and grieving about those loses as well? Some kind of confusion is in the process of leaving you and the helming form it is coming in. Allow the healing energies for the amazonite to come in, to help restore your balance, peace and clarity. Let go of all concerns and TRUST! All that you desire will soon manifest, let go of the desired outcome and those outcomes you desire will come to be.
"Rutilated Quartz"
You've been subconsciously reaching loving vibrations and loving thoughts from someone connected to your past. An episode or conflict that hurt you is now being healed and reconciled by the power of forgiveness and unconditional love. You might find yourself emotionally and mentally reciprocating this love as you reflect on a person or past event. All the healing of it to come into your heart then send that love out to that person or situation, you feel the realization that you cannot live with that hurt in your heart any longer and you want the freedom that love can give. through this exchange of love, past wounds are now energetically being healed, and all discordant attachments resolved and released.
Enjoy your week my friends.
Coryelle