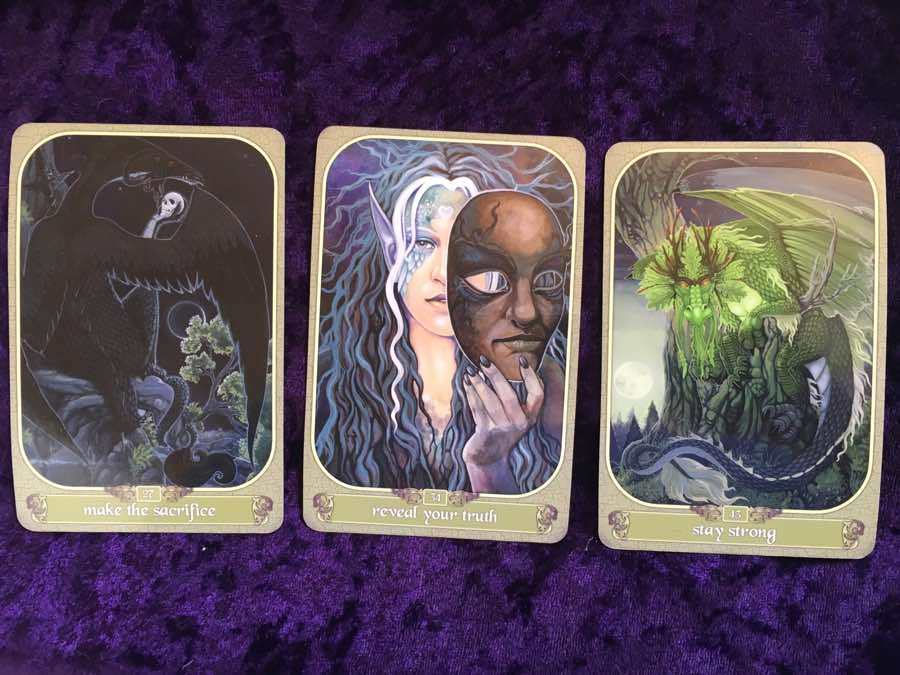 It's wonderful to hear that people are enjoying these weekly cards, I'm having a blast doing them for you as well.
The cards this week are from the wonderful and powerful Messenger Oracle deck by Ravine Phelan
"Make The Sacrifice"
The sacrifice that you have to do this week is to do whatever you need to complete those projects that you've been either putting off or the ones that youve been working on and they're just about to the finish line. It's time to put the pedal to the metal and get them DONE. Do all you can do get into the flow of completing whatever needs doing, maybe going offline, turning off ringer on the phone or turning them off all together, finding a quiet place where you can think and just concentrate on the tasks at hand, maybe meditating to help get the energy flowing right is the right call for you, whatever it is do it. And during times like this don't be afraid to ask for help, that can take off A LOT of the addition pressure of having to get things done. If you make the sacrifice and put your nose to the grind stone, the benefits that it will reap for you are countless.
"Reveal Your Truth"
"The truth shall set you free!" That's what on call for you this week there is a revealing, an unveiling, a discovery of what you truth is, no more hiding who you really are or how you really feel to the world around you. It's time to acknowledge whatever it is that you've been scared to let out, putting yourself out there and damn the consequences or fears you've been telling yourself. This truth can be in the form of your emotions, your spirituality, your life purpose abilities, your beliefs, even revealing your creativity in the form of a book or painting to the world, it could be anything; for as long as it's your truth that's all that matters. It's time to take it out of the dark and bring it into the light where it can thrive, spread, and grow.
"Stay Strong"
The thing that you've recently been going through is almost over! Stay strong, hold on, trust that the light is not only at the end of the tunnel but that you can SEE it. You've gotten through it so far, acknowledge your strengths, bask in your achievements and experiences, don't wallow in the fact that it happened, observe the opportunities it brought you, feel the changes and transformations within yourself, don't keep looking back at how it all began, look ahead to where it brought you. You are stronger than you could ever think yourself to be and anything that comes your way you CAN handle it, you CAN get through it, and you are NOT alone, you have your guides, the Universe/Goddess/God right there with you, you have people who TRULY love you. Stay Strong!
Enjoy your week my friends!
Love, Coryelle