This will be the last of the weekly card pulls, and it's been an absolute blast and I want to thank everyone who's let me know how much they've enjoyed them.
But I've been feeling for a little while now like the Universe has been telling me it's time to more on to something else and when the Universe tells me something I listen….at least I try to 😉
Thank you for giving me the chance to read for you for last few years.
So, for the final time your cards this week are from my "Osho Zen Tarot" deck, they wanted to be heard. Choose your card using either your intuition or notice which one your eyes are drawn to, which one "feels" right to you, then read it's message that's below for your upcoming week.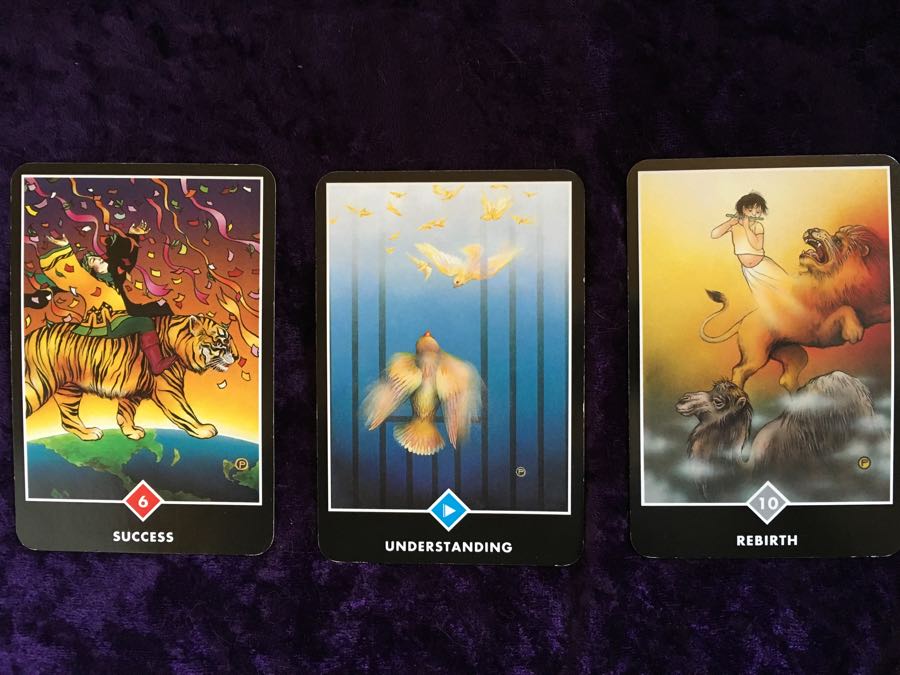 "Success"
Those things that you've been striving for are coming to pass, the goals that you have set, the desires that you've been asking for, are all coming your way, enjoy them! This card also maybe a sign that you've succeeded in something you've been striving to achieve within yourself. Either a more powerful mindset replacing a bad habit or a new state of mind or outlook on life has been achieved. Just as the person sits on top of the tiger and is on top of the world, so are you. Allow yourself to feel your success this week, milk them, talk about them bring them into shape and exact focus, the time for downplaying is NOT now, it's time for you to bask in the success that is coming and has come your way. Acknowledging that not only did the Universe being it to you but YOU co-created WITH the Universe, for nothing happens to you without your permission. Success is not to be ignored, it's not to be lessened it's to be celebrated, loud and proud for being humble done't have a place when enjoying success because when you truly embrace what you've achieved with the Universe you are honoring all that's been brought to you, when you don't own what you brought into being you are not honoring those magnificent manifestations that being given to you. Enjoy your successes this week and every week to come!
"Understanding"
You come to a place of understanding this week, for there's incredible freedom in understanding, it unlocks the bars of questioning, anger, resentment and fears. You come to understand of either yourself or of others or both. You begin to see with a clarity like you've never had before, for the cloudiness of doubt and questioning because clearer the more understanding you allow to flow to you this week. You see where actions of both yourself and others really come from, whether it from fear, or self doubt, self hate, why they do the actions that they do become clearer to you. The understanding of who you truly are, may come more into focus today you are a powerful creator of your life, a worthy child of the God/Goddess forces, if it's your destiny to shift into a new self consciousness where you feel your worthiness, your power like never before, don't fear it, embrace it for it will unlock the cages not only of your mind but your spirit. Understanding is your key this week to a new freedom and happiness like you haven't felt before, once the cage has been unlocked then it's up to you whether you choose to fly or choose to because it's your life and you're the creator of it. Use your intuition to follow your heart and fly!
"Rebirth"
The card is signaling that your time for transformation is upon you, don't be afraid of it, embrace it, nurture it, look forward to it. It's a rebirth to something more, expansion and the feelings that it brings is why you came to this plane int he first place. To enjoy the thrill of becoming more, or letting go of the old and ushering the new expanded you, and it's something you've been wanting for a while now so enjoy it. Yes, birth can be painful, but it's necessary nothing can stay the same forever, even the stone gets worn down by the elements those things that stay the same become stagnant and lifeless, if you welcome in the changes, the momentum of them will bring you to where it is that you need to go more easily. Change is happening and it's happening to you in a big way this week, do you stand there'd curse the wave as it's coming toward you? Or do you do all you can to get up on top of it so you can ride it with ease to the glorious beach and destination ahead? Change is inevitable; you can either see this week as a death of what you have come to know or you can see it as a rebirth, transcending you to the next place that you need to be on your wondrous journey of life, the choice is yours.
Love & Light
Coryelle