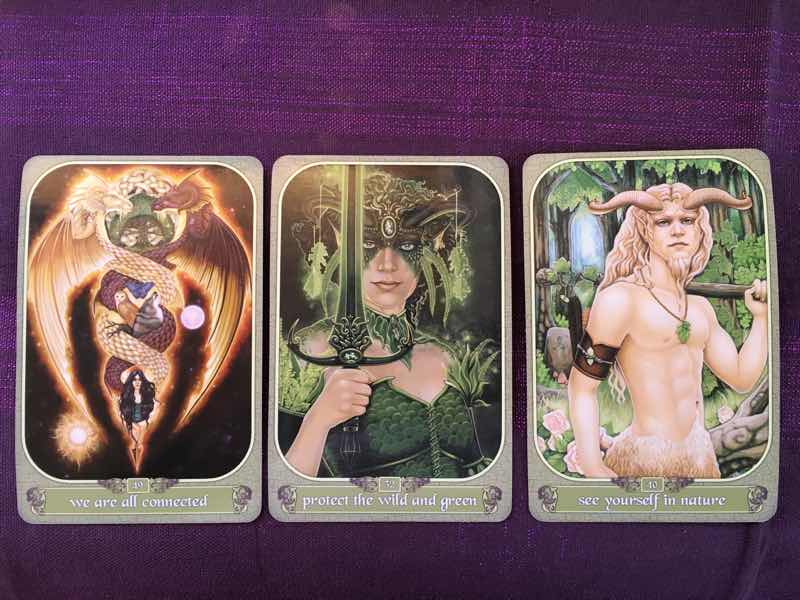 I hope your enjoying these weekly card pulls, if you are please let me know
Here are your cards for the week, chose the one you like the most and that's your guidance for the week.
"We are all connected"
This week for you it will be about feeling connecting, a part of both in your private and business life. You can do many things on your own, you are certainly strong enough, capable enough, smart enough but you don't HAVE to do. Remember to ask for help and guidance when you need it, form both friends family, your guides the Universe and then fell your connection to all of them and allow in order to allow in the answers that you're seeking. Get out in nature, start an active communication with your guides, join a meet up group, MAKE a meet up group of your own. Connect to the friends you haven't talked to since before the holidays, if possible get out into nature and communicate with the natural world, feel your connection to the Earth. The time of being apart from is over the time of connection is calling you.
"Protect the wild and the green"
You are being called to action protect the wild both around you and inside of you. Walk with love upon the Earth this week, honor her, cherish her, commune with her do something FOR her. You are being asked to be her protector, her champion, send her love, send her light, help her by giving instead of taking. Ask yourself, ask the Earth "what can I do for you today?" If you are worker of the light, a healer than discover ways that you can help the Earth become stronger. The wild and the green are also within you, they are sacred places in your soul which run free. We tether them by trying to be in control all the time, we cage them when we are not living our truth, hiding who we are to those around us. Honor your ties to the sacred mother and to yourself.
"See yourself in nature"
It's time to ground, you've been feeling like a cork on the stormy open ocean for long enough, driven by your worries, your self criticism and your fears. when you are so in your mind you are ungrounded, disconnected to fully to your inner being who you whispering (and sometimes yelling) at you that all is well. You need to get back into the flow of your stream of well-being and peace, and you do that by getting back into nature. If you can't take a walk physically in nature then listen to a meditation, or a recording of the sounds of some place natural and go there in your mind. The answers you seek, the peace you want will be found in the sights, smells, sounds and energies of the natural world.
Have a wonderful week!
Coryelle