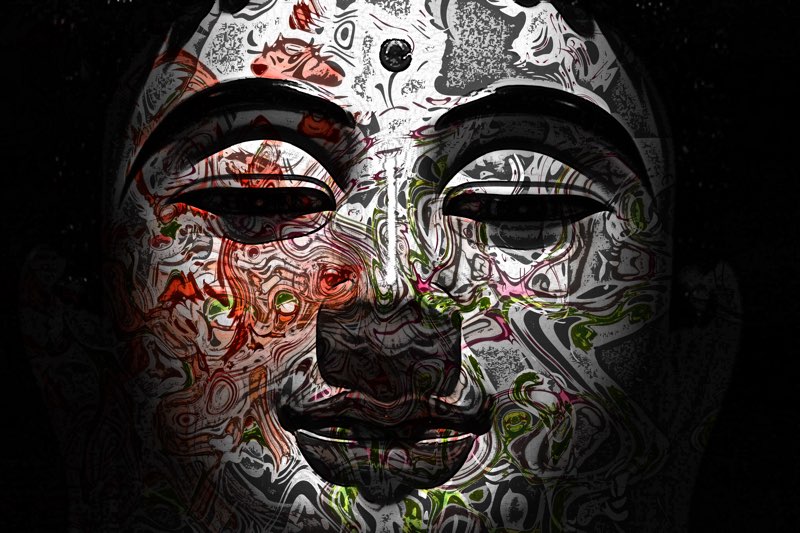 Those who've both taken classes or had a Spirit Guide Discovery Reading with me, have heard me say that to bring your Spirit Guides close to you, to honor them, the relationship itself and the wisdom they will share with you, it's a good idea to have something that reminds you of your connection to them. This can be in the form of a figurine, a statue, picture that you find on google or Pinterest, or a painting either of your guide or one that makes you think of them when you look at it.
That's the whole purpose why I'm begun paining the "Master~Pieces", to help those of you who are drawn to them to connect to your guides, twin flames, and Animal Totems/Spirit Guides.
Master Pieces are intuitively painted artwork that's of the essence of the Ascended Masters, Goddesses, Gods, Ethereal Beings (such as Unicorns, Fairies and of course Dragons) as well as Animal Spirt Guide & Totems; essentially bringing your guides to life.
After I began my journey of painting the pet keepsakes "Soul Pieces" the Ascended Masters and other metaphysical entities began to call me to paint them. Something I honestly wasn't sure I'd be able to do but trusted (like I did with the Soul Pieces) that somehow it would all come together.
Each "Master Piece" will be different, never the same, no matter how many times I paint the piece for the same Angel, Goddess, God, Animal Totem or Ascended Master their essence will be different, because each one will be filled with messages, signs and insights for YOU (the person who is buying them). It's what I find so interesting about them and what makes them super fun to paint, the fact that their essences are constantly shifting and changing. Unlike the Soul which, aside from just a few changes seems to stay constant.
As with the "Soul Pieces" every color, brush, stroke and technique I used will all be intuitively chosen and painted. Master Pieces can either be commissioned or you can purchase those already painted in my shop.
The astonishing thing about a "Master Piece" is that it is constantly unfolding, and you always see something new when you turn it, it becomes an entirely different piece.
Hang your Master~Piece(s) in your home, sacred space, healing room or office, anywhere you'd like y
our guide(s) energies and presence to be with you.
The Master's who came through and will be painted (in this order unless commissioned earlier) and available in my shop are Archangel Uriel, Quan Yin, Odin One Eye, Archangel Michael, Ganesh, Jesus Christ, Kali Ma, Black Punter, Hawk, Owl, Deer, Raven and Hummingbird. If you wish to have your guide painted feel free to contact me through email using the link below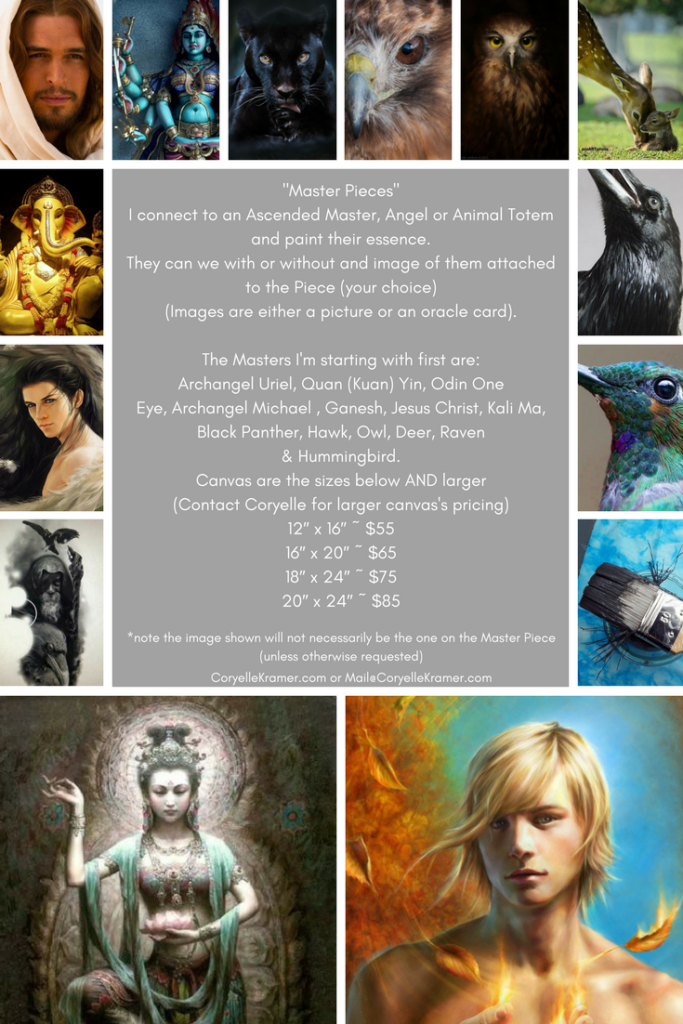 Pricing varies canvas size: Canvas options
12″ x 16″ canvas:  $55.00
16″ x 20″ canvas: $65.00
18″ x 24″ canvas: $7500
20″ x 24″ canvas: $85.00
Larger canvas' ARE available, please Contact Coryelle or to inquire about shipping OUTSIDE the U.S.
Master Piece's can be found in my online shop.
Shipping varies with the size of the canvas and how many you would like, if purchasing multiple canvas' a separate invoice will be sent when the Master Pieces are ready to be shipped.
All Pieces are shipped priority mail within the U.S.
SaveSave
SaveSave